People worldwide are recognizing the benefits of solar power. As energy expenses continue to rise, people are looking for more energy efficiency. This is why so many appliances are now manufactured and marketed as energy-efficient appliances. If you live in San Diego and are considering investing in solar energy for your home or business then contact San Diego Solar Surfers.
We can guide you through the entire process of selecting the right solar products for your needs. Your energy expenses may start to rise and you may not think much about it at first. However, if you compare your energy expenses from just a year ago, you may feel different. Solar panels may require a more sizable upfront investment but those who have them will attest to the fact that they more than pay for themselves within a couple of years.
About Us
San Diego Solar Surfers has been operating in the San Diego, CA area for more than 10-years. We have been instrumental in educating many homeowners in the areas about the various benefits of solar power. Once we started doing this then our business took off. We will even help our customers select the type of solar system that we believe will be best suited to his or her needs. As the preferred solar service in San Diego, we work closely with our customers to identify their objectives so that we can install the most suitable solar panels. We make sure that our customers receive the most for their money by installing the most appropriate panels.
Our Services
If you have thought of about solar power before but continue to dismiss it then it's time that you do something about it rather than ignoring it. The first step is to contact our associates at San Diego Solar Surfers to discuss the benefits that solar panels offer to those who have them. We will provide you with all the information that will enable you to make a well-informed decision about whether you want solar power or not.
Whenever someone turns to us for his or her solar panels, we lay everything out before it is installed. As qualified professionals, we use necessary safety precautions to ensure that our clients are safe from any potential harm. As certified solar panel technicians, we can install every part of your solar system. With our level of experience, you can be sure that the job will be done right.
Battery Storage & Charging
If you have solar panels installed then you'll also need a battery storage system that will effectively store energy from your solar system. They store surplus energy that your solar panels produce. We offer battery storage along with the necessary battery charging components. Only rely on a qualified professional to provide you with the battery storage system that you need to ensure that you have the right type.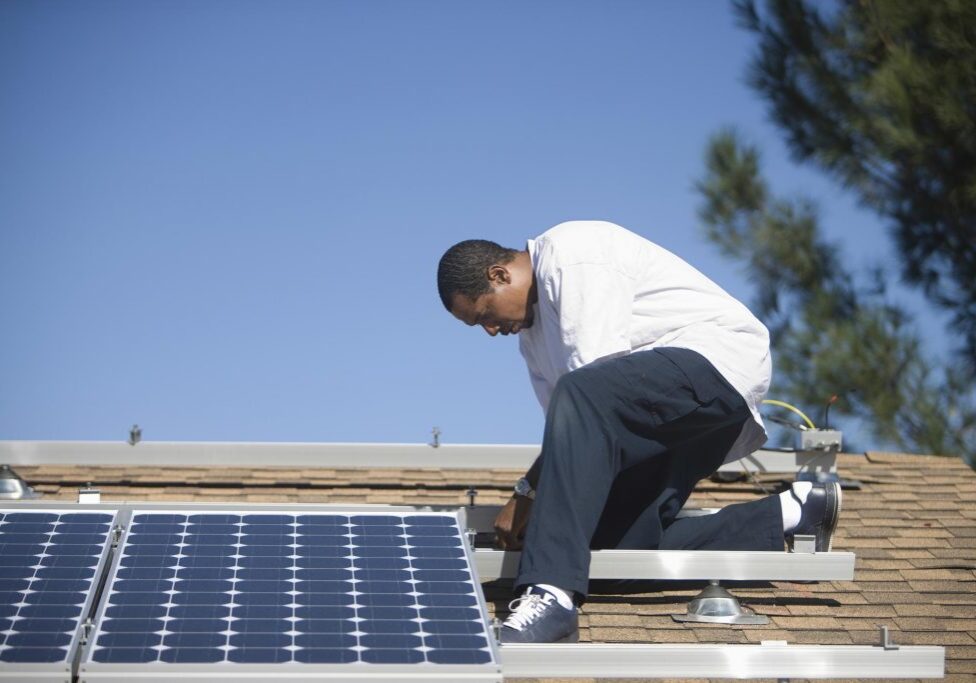 Solar pool heating is offered in different styles and sizes. You may not realize it but your pool can be effectively heated with the installation of a solar system. We will explain how this is performed in detail when you contact us about your solar panel need. You can control the heat of your pool with efficient solar panels.
Just like many homeowners, just as many business owners are seeking ways to cut expenses and have been introduced to solar systems. With the help of our certified technicians, we can also help you find the right size and type of solar panels for your business. Our experts are qualified to install every feature of your commercial solar system from start to finish. We're sure that your business can benefit from a solar system, which is why we urge you to contact us about your power needs.
Is Solar Worth It
In San Diego?
At San Diego Solar Surfers we believe that solar power energy is worth it no matter where you live. Many in San Diego have seen the value of having them installed, which is why we have seen such an increase in the demand for solar power. When you have your system customized by our certified solar panel technicians, then you will see just how beneficial they are to you.
Are There Any Rebates In San Diego For Solar?
The short answer to this question is yes. We don't know whether or not this is a contributing factor as to why so many in San Diego are having solar panels installed. However, we do believe that it has been a contributing factor that has caused many to contact us to learn more about how they can benefit from solar power. Rebates are a great incentive.
"It took us years to decide to have solar panels installed but after speaking with others who have them, we decided that it was time to have them installed. We did our research and found that most people relied on San Diego Solar Surfers, so we decided to give them a call to install our panels. We couldn't be more satisfied with the services they have offered to us." – John J.
"We immediately saw a difference in our energy expenses when we had our solar panels installed by San Diego Solar Surfers. Initially, we didn't believe all the hype but since California was offering incentives we figured we try them out. We are happy that we did!" – Tim R.
"It wasn't until we consulted with a solar technician at San Diego Solar Surfers that we decided that we would go ahead and have them installed. They explained them to us in terms that we could easily understand. " – Belinda T
If you are on the fence about whether or not you should have solar panels installed then why not find out the facts about them so that you can make a well-informed decision. When you rely on San Diego Solar Surfers, we can offer you all the information that you'll need to make a well-informed decision about whether you should have them installed. Call for a  consultation today.